Elachi Color Sorting Machine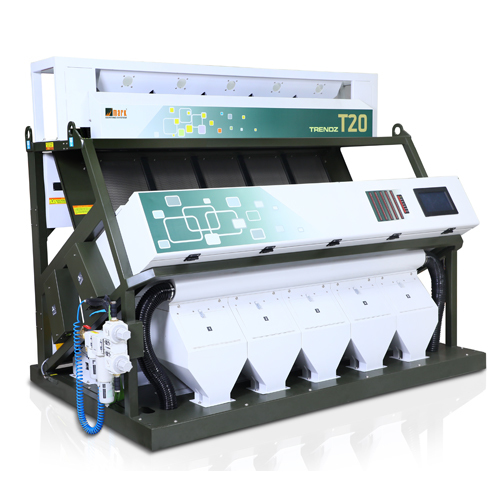 Elachi Color Sorting Machine
Price And Quantity
Product Specifications
Elachi Color Sorting Machine

Commercial
Product Description
The Elachi Color Sorting Machine is well-equipped with high resolution camera and quick response time ejector, which facilitates in easy detection of bean defects. The Sorting Machines are arrangement apparatuses which are employed to separate divergent things into predetermined groupings as part of a computerized process. These utilize an arrangement of overhead oars and furthermore utilize controlled rollers that ascent and in addition fall between the parallel belts. The offered Elachi Color Sorting Machine is very accurate and durable. It is easy to install in the needed places and is very efficient. The machine is highly effective.
Product Features of Elachi Color Sorting Machine
Mark Color Sorter is designed to provide a superior performance and reliability, allowing you to avoid annoying maintenance which would effect your production. Mark Color sorter is a complete system that incorporates advanced engineering concepts.
Tri Chromatic Camera Scanner
High Speed data acquisition and digital image

Processing Technology Using FPGA

Resolution -

5400 X 3 pixels with

RGB Trichromatic Camera Technology

Highly Specialized lens for sorting purpose

Front and back evenly aligned cameras with digital alignment technology
10'' Inch Color HMI
Low Energy consumption led lighting

Improves fine RGB Illumination in background

Enhancing defects recognition systems by varying different backgrounds for different types of grains
Specifications of Elachi Color Sorting Machine:-
Chute Option Available
12 Chute
10 Chute
8 Chute
7 Chute
6 Chute
5 Chute
4 Chute
3 Chute
2 Chute
1 Chute
Chute Distribution (P+S+F)

7+3+2

or

7+2+2+1

-
Output (TPH) for Rice/Dal
7 to 9

6 to 8

5 to 7

4 to 6

3.5 to 4.5

3 to 5

2 to 4

1.5 to 2.5

1 to 2

0.75 to 1.5

No.of.camera (F&R)
12+12

10+10

8+8

7+7

6+6

5+5

4+4

3+3

2+2

1+1

Air@7.5kg/Cm2
230 CFM

180 CFM

160 CFM

140 CFM

115 CFM

96 CFM

72 CFM

54 CFM

44 CFM

28 CFM

Compressor Requirement

50 HP Screw

40 HP Screw

35 HP Screw

35 HP Screw

30 HP Screw

25 HP Screw

20 HP Screw

15 HP Screw

10 HP Screw

10 HP Screw

Dimension (LXWXH) feet
16x4.88x5.97

13.83x4.88x5.97

10.87x4.88x5.97

9.73x4.88x5.97

8.59x4.88x5.97

7.46x4.88x5.97

6.33x4.88x5.97

5.19x4.88x5.97

4.1x4.88x5.97

2.92x4.88x5.97

Cabin Dimension Feet (LXWXH)
20x10x8

18x10x8

16x10x8

14x10x8

13x10x8

12x10x8

10x10x8

9x10x8

8x10x8

7x10x8