Badam Color Sorter Machine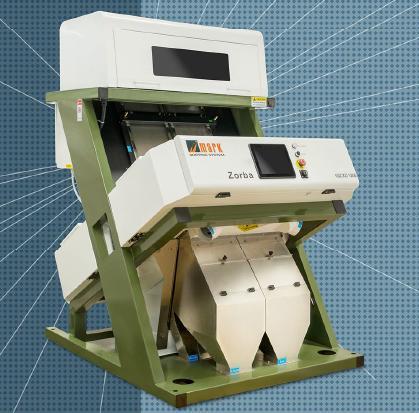 Badam Color Sorter Machine
Price And Quantity
Product Specifications
Badam Color Sorter Machine

99 %
Product Description
Promech Industries Pvt Ltd (mark Color sorter) offers heavy duty Badam Color Sorter Machine that is in high demand within food and beverage industries for the quick grading of dry fruits and nuts without any risk of breaking the nuts. It is provided with an intelligent touch controller to easily set operational parameters. The high speed image reading system is installed with a Tri chromatic CCD Color camera to ensure high accuracy of 99 percent. The offered electrically powered sorting machine can be delivered to our clients as per the order placed by them with a minimum order quantity of 1 unit.
Product Technical Features :-
Ultra high defination camera & HD Lens :-
5000x3 pixel higher sensitive RGB Tri chromatic CCD Color camera with high speed image reading system. High end customized HD lens,with a resolution of over 30%
Precise Solenoid Valve :-
Quick response : 1ms Accutacy 100% , Low Air Consumption , Low Power Consumption
Intelligent Image Processing Algorithm:-
Precision and accuracy in sorting a wide combination of colors and shapes.
Illumination system:-
Even and uniform illumination with automatic dimming low power consumption energy saving,low maintenance long life.
Communication System :-
With stable automobile level high speed communication system,the rate is improved by upto 4 times.
SOC :-
With outstanding high performance and low power comsumption along with the highest bandwidth and integration density in the industry, the processing ability is improved by upto 5 times.
Feed Touch :-
High quality 300 mm ultra wide trough with specialized andization treatment process ensures high output on par with international standards. Cascading flat plate and narrow chtue channel can be outfitted to sort a variety of material colors.
Technology :-
Remote control and online advanced large data cloud connectivity offers maximum speed and precision
| | | | | |
| --- | --- | --- | --- | --- |
| MODEL | CHUTE | AIR @7.5 KG/CM2 | PRODUCTS OUTPUT (T/H) | CHUTE DISTRIBUTION (P+S+F) |
| ZORBA-6SZXZ-84E | 2 CHUTE | 48 CFM | 800 kg TO 1.0 | 1+1 |
| ZORBA-6SZXZ-126E | 3 CHUTE | 54 CFM | 1.50 TO 2.0 | 2+1 |
| ZORBA-6SZXZ-168E | 4 CHUTE | 60 CFM | 2.0 TO 3.0 | 2+1+1 |
| ZORBA-6SZXZ-210E | 5 CHUTE | 70 CFM | 3.0 TO 4.0 | 3+1+1 |
| ZORBA-6SZXZ-252E | 6 CHUTE | 90 CFM | 4.0 TO 5.0 | 4+1+1 |
| ZORBA-6SZXZ-294E | 7 CHUTE | 110 CFM | 4.50 TO 5.50 | 4+2+1 |
| ZORBA-6SZXZ-336E | 8 CHUTE | 120 CFM | 5.50 TO 6.50 | 5+2+1 |
| ZORBA-6SZXZ-378E | 9 CHUTE | 130 CFM | 6.0 TO 7.0 | 5+2+2 |
| ZORBA-6SZXZ-420E | 10 CHUTE | 150 CFM | 6.50 TO 7.50 | 6+2+2 |