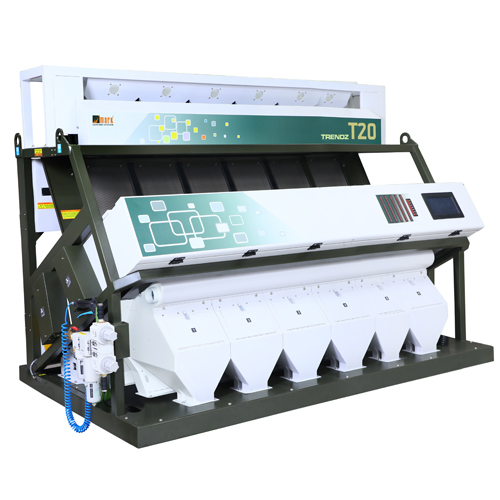 Basmati Rice Color Sorter Machine
Product Description

Basmati Rice Color Sorter
Mark was founded in 2005 and ever since its activity has been the design,the manufacture and the installation of color sorter machines in all over india,being now known leading manufacturer of turn key rice mills.
Customer Service :
Three key of our service :
Manufacture of best quality machines.

Professional training of the end user.

Top quality of after sales service.
The service we provide to our customers is crucial to achieve high performance and maintain the machines in the years to come.
Vibrator
Smart Cruze Max V3 comes with highly efficient electronic vibrator which means the vibrator allows the throughput to be varied by both electronically and mechanically. The constant flow of product ensures that the sorting is optimal.
Frame
Steel panels are assembled into a compact and stable frame structure. The frames are so study that it avoids passage of any vibration to the CCD electronic components. Also side covers are provides which prefects from dust. The design of the frames allows the users to clean easily and quickly.
Chutes
Smart Cruze Max V3 comes with 28 channels chute with 6.0 mm width each. This ensures accuracy during very high sorting by scientifically allowing the matching of length and inclination with smooth abrasion resistant surface. The line-up of grains up from the view point till ejection point will ne uniform.
Injection system
Every Smart Cruze Max V3 comes with highly durable and reliable fastest solenoid vales. Also very highly efficient ejection nozzles for rejecting products with high precision and minimum compressed air consumption. LED band displays the ejection status of each channel in a real time basis. Smart Cruze Max V3 is also equipped with filter regulator and condense discharge unit. The shape of the channels and pitch is been provided according to the dimensions of your products. Wide flat chutes are also available.
Grain Analysis
The grain passing through the inspection area is very closely scanned by the camera for any impurity. The grains are divided by vertical and horizontal lines and each individual sector is considered. The output quality and the sorting accuracy can be set by you according to your product preferences.
2048 Pixel CCD Camera
2048 pixel CCD Cameras are already been adopted by majority of color sorters worldwide due to its superior performance in grain color sorting purpose. We are the first and only Indian color sorter manufacturer to adopt this camera technology and offering at competitive price. The camera and our own signal processing algorithm combined identifies the smallest color differences and dots.
Technical Specification
Model

Cruze Max V3 - 224

Cruze Max V3 - 252

Cruze Max V3 - 280

Short Grain (Ton/hr)

4.5

5.25

6

Long Grain (Ton/hr)

3

3.3

3.6

Power Requirement (KVA)

5

5

5

AIR (CFM)

70

80

90

Dimension LxWxH (Inches)

102 x 51 x 71

102 x 51 x 71

102 x 51 x 71

Note: Contamination 0.5%