Spices Colour Sorter Machine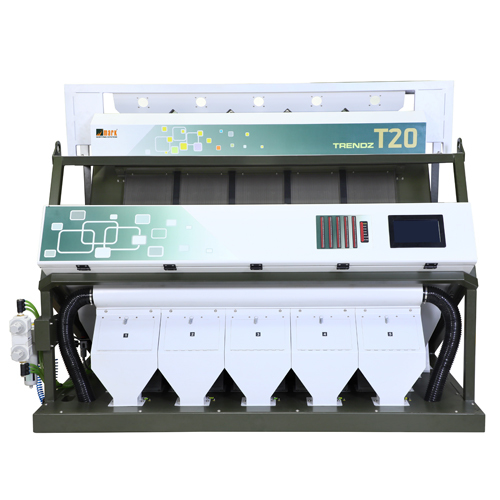 Spices Colour Sorter Machine
Price And Quantity
Product Specifications
Spices Colour Sorter Machine

99 %
Product Description
Spices Colour Sorter Machine is an agricultural grade high performance sorting unit which is designed for the differentiation of various types of spices as per their colors and sizes. It is fabricated by using top grade materials which imparts greater strength and sturdiness to resist large impact and vibrational forces. Spices Colour Sorter Machine availed by us is equipped with a heavy duty electrical motor to produce large vibrational forces. It can also be used in various small to large scale food processing industries.
Product Features of Spices Colour Sorter Machine
Mark Color Sorter is designed to provide a superior performance and reliability, allowing you to avoid annoying maintenance which would effect your production. Mark Color sorter is a complete system that incorporates advanced engineering concepts.
Tri Chromatic Camera Scanner
High Speed data acquisition and digital image

Processing Technology Using FPGA

Resolution -

5400 X 3 pixels with

RGB Trichromatic Camera Technology

Highly Specialized lens for sorting purpose

Front and back evenly aligned cameras with digital alignment technology
10'' Inch Color HMI
Low Energy consumption led lighting

Improves fine RGB Illumination in background

Enhancing defects recognition systems by varying different backgrounds for different types of grains
Specifications of Spices Colour Sorter Machine:-
Chute Option Available

12 Chute

10 Chute

8 Chute

7 Chute

6 Chute

5 Chute

4 Chute

3 Chute

2 Chute

1 Chute

Chute Distribution (P+S+F)

7+3+2

or

7+2+2+1

-

Output (TPH) for Rice/Dal

7 to 9

6 to 8

5 to 7

4 to 6

3.5 to 4.5

3 to 5

2 to 4

1.5 to 2.5

1 to 2

0.75 to 1.5

No.of.camera (F&R)

12+12

10+10

8+8

7+7

6+6

5+5

4+4

3+3

2+2

1+1

Air@7.5kg/Cm2

230 CFM

180 CFM

160 CFM

140 CFM

115 CFM

96 CFM

72 CFM

54 CFM

44 CFM

28 CFM

Compressor Requirement

50 HP Screw

40 HP Screw

35 HP Screw

35 HP Screw

30 HP Screw

25 HP Screw

20 HP Screw

15 HP Screw

10 HP Screw

10 HP Screw

Dimension (LXWXH) feet

16x4.88x5.97

13.83x4.88x5.97

10.87x4.88x5.97

9.73x4.88x5.97

8.59x4.88x5.97

7.46x4.88x5.97

6.33x4.88x5.97

5.19x4.88x5.97

4.1x4.88x5.97

2.92x4.88x5.97

Cabin Dimension Feet (LXWXH)

20x10x8

18x10x8

16x10x8

14x10x8

13x10x8

12x10x8

10x10x8

9x10x8

8x10x8

7x10x8