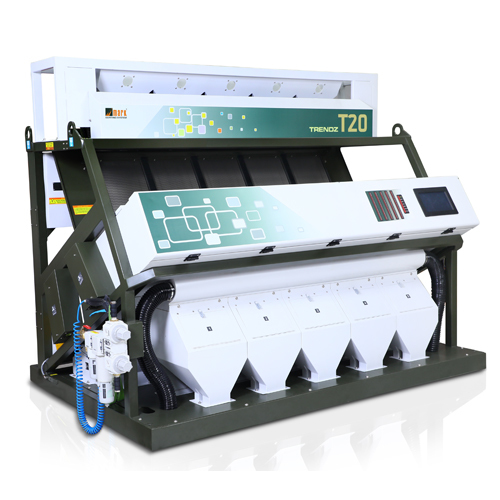 Urad Dal Colour Sorter
Product Description
We are engaged in manufacturing, supplying and exporting high quality Urad Dal Colour Sorter. The machines which we offer are manufactured by our qualified professionals by making use of top quality components and materials, procured from the authorized vendors of the market. We manufacture these machines following all the parameters and norms laid by the industry. Offered Urad Dal Colour Sorter is very efficient and offers maintenance free operation, therefore well-known among our clients.
Features:
Strong construction
Easy operation
Less maintenance
High operational fluency
The Urad dal Color Sorter Advanced Design Features Includes.
"MARK" domestically first initiated CCD duel color sensor technology 5000x2 pixel, realizes discolored area less then 0.02mm, applicable for different beans and nuts sorting solutions
Advance optical sorting system with specially made high speed ejector and high speed vision control arithmetic and communication protocal secures high sorting index
Wide channel for material input, configured with high speed digital processing technology system assemblization and sorting Is highly perfected
Based on touch screen operation manual the operation interface is more human friendly
Adoption of high sensitivity and special compurization system of defects material can be removed, perfect sorting performance is secured
Single Sorting remove different color materials
Multicolor Sorting Automatic background changing facility based on input commodity setting. 15 Programs presets for variety of products
LED Optional

5000x2 Pixel BI-Chromatic CCD Color Camera Double Side
5000x2 pixel BI - Chromatic CCD Color camera Double sides are already been adopted by majority of color sorters worldwide due to its superior performance in grain color sorting purpose. We are the first and only Indian color sorter manufacturer to adopt this camera technology and offering at competitive price. The camera and our signal processing algorithm combined identified the smallest color differences and dots.
LCD Touch Screen Interface
Operating the Smart Max RX is made easy with clear bright TFT LCD Touch Screen Interface Module. The Touch Screen Menus has been designed for ease and simplicity of use. Fewer and simple steps of menus and parameters make the machine to suit for the variety products and give the user desired level of performance
1 MS Ejector Valves
We valve your products. Every good grain ejected will reduce your profit. Minimizing the ejection duration for every signal pin-point the impurity grain only and the good grain waste is reduced Smart Max RX is the first Indian color sorter to use the 1 mill second fast switching ejector-valves operates up to 1000 ejections per second
High Performance Chutes
Sorting accuracy depends up on formation of rice or grains which passes through ejection point with smooth flow is vital points of sorting quality Smart Max RX Fix fitted with hardened. natural polished and seasoned alloy chute deliver the great performance 28 Channels chute each 6 mm channel width ideal for smooth flow of normal grain varieties
Technical Specifications:
Model

GIANT RX- 560


GIANT RX- 520


GIANT RX- 480


Maximum Processing capacity

Short Grain

9-10

8-9

7-8


Long Grain

8-9

7-8

6-7

Power Requirement(KVA)


12


12


12


Air (CFM)

156

152

148

Dimension Width x Depth x Height

129" x 51" x 71"

129" x 51" x 71"

129" x 51" x 71"