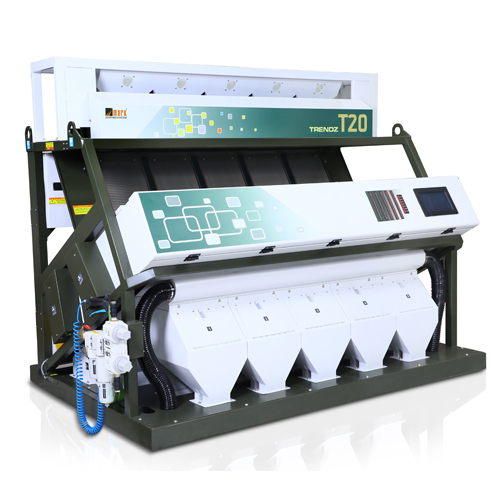 Wheat Color Sorter Machine
Product Description
Features of Wheat Color Sorter Machine
Double side view technology objects view from front & rear
5000x2 pixel higher sensitive CCD Bi-Chromatic camera, it realizes discolored area less than 0.068mm.
Advance optical sorting system with specially made high speed ejector and high speed vision control arithmetic and communication protocol secures high sorting index.
Wide channel for material input, Configured with high speed digital processing technology, System assemblization and sorting is highly perfected.
Based on touch screen operation & manual operation interface is more human friendly.
Option in LED light color changing.
Single sorting remove different color materials.
Multi-color sorting.
Automatic background changing facility based on input commodity
28 Groove chute, 6 mm each channel.
Touch screen control panel to feed 15 programs.
Automatic self cleaning system.
Reverse sorting method.
Specifications
Channels Available
Mark JX - 196
Mark JX - 168
Mark JX - 140
No. of Chute
7 Chute
6 Chute
5 Chute
Output [TPH]
2.5 to 5
2 to 4.5
1.5 to 4
No. of Camera [F & R ]
7 + 7
6 + 6
5 + 5
Chute Distribution [ P + S + F ]
4 + 2 +1
3 + 2 +1
3 + 1 +1
Air Requirement @ 7.5kg / cm2
72 CFM
60 CFM
48 CFM
Power Requirement
10 KVA
Dimension [ L x W x H ] [ Feet ]
6.5 x 5 x 6
Cabin Dimension [ L x W x H ] [ Feet ]
10 x 10 x 8
Air Compressor
15 HP